COVID-19 Alert
Due to COVID-19, this place may be closed or inaccessible.

Parking lot day/night
Limatola,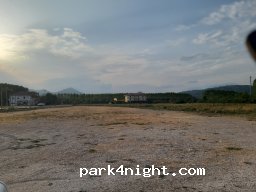 Large parking, just a few minutes walk from the castle of Limatola, without services, but great for spending one or more nights. Quiet and partly illuminated. Dirt / grassy and sufficiently mottled ground. In the period of the beautiful Christmas market (from mid-November to 10 December) you pay € 4 on weekdays and € 8 on holidays.