COVID-19 Alert
Due to COVID-19, this place may be closed or inaccessible.

Parking lot day/night
Lamego,Monte de Santo Estevão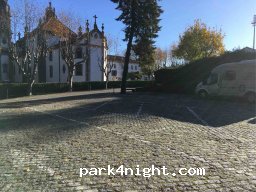 Parking on the back of the Sanctuaries ... We are in Van Combi but I think it's possible in a Camper. Ideal for spending a night there, no passage of car during the night. In the morning great to enjoy the place. it was calm. The bells did not ring at night, only after 7 or 8 in the morning.