COVID-19 Alert
Due to COVID-19, this place may be closed or inaccessible.

Private car park for campers
Fyresdal,6-4 Sekundær Fylkesveg 405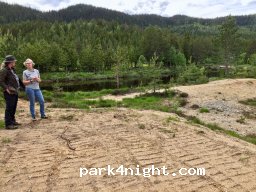 Lovely new spot by at 580 m.a.s.l Quiet and clean next to a brook where you can fish trout. License included in fee (15 Euros/150 NOK) for parking. Water in brook is clean and you can drink it. Great for walking, berry or mushroom picking, watching wildlife in abundance. Owner organizes horseback riding. No services available.
Id : 130193 - Créé le 25 06 2019 par
steensk8