Server issue
Due to a technical problem, comments are currently unavailable.

Parking lot day/night
Torino,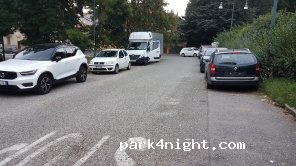 Free Parking lot 15-20 minutes by foot away from the center. The whole street is actually free for PKW(car) parking ( also written in the Internet, street is for free parking) parked at the spot during the day to avoid paying, like on every other parking lot. Maybe staying over night is also possible, for sure with combi or Van, but there are other spots better suitable. for just visiting the city, it's perfect.
Id : 145644 - Créé le 10 08 2019 par
rocko88