COVID-19 Alert
Due to COVID-19, this place may be closed or inaccessible.

Surrounded by nature
Umhausen, Ötztal Straße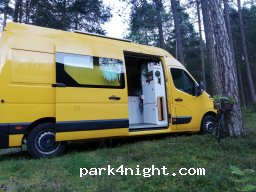 Parking in the woods for a vehicle. The path into the forest is marked neither with driving ban nor with private and loses itself after the radio radio mast in the nothingness. But before there is the possibility a vehicle of 6m length, 2m width and 3m height, off the way off and turn there. Quiet, isolated only occasionally few hikers.