Server issue
Due to a technical problem, comments are currently unavailable.

Surrounded by nature
Šegotići, Unnamed Road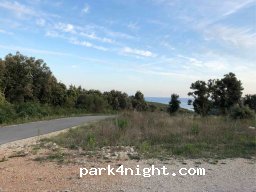 We spent a night here as a kind of stopgap. It was not a proper parking lot we were standing in, but it was on a quiet street above a small settlement. It was quiet all night, since after 20:00 nobody passed by. The way there is a bit tricky, because the roads are paved but narrow and extremely steep.
Id : 158110 - Créé le 22 09 2019 par
AntonNeu