COVID-19 Alert
Due to COVID-19, this place may be closed or inaccessible.

Surrounded by nature
Jausiers, Chanier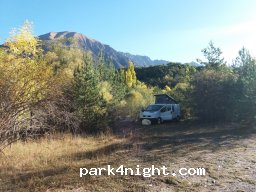 At the edge of a very small road and a torrent. Nice view of the mountains. Very quiet site. Some car passages in the evening and in the morning. Look for the direction of karting and paintball. Route de la Fraîche then chemin de Pechine.The road leads but we stopped after an open forest fence that seems to no longer serve. The place is clean. Thank you for keeping it intact. Just a few droppings of sheep.