COVID-19 Alert
Due to COVID-19, this place may be closed or inaccessible.

Parking lot day/night
Roma, 3 Passeggiata del Gianicolo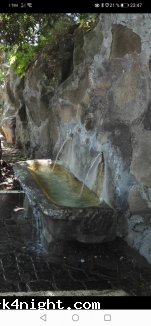 Free natural water fountain that flows 24/24. A priori, on Google Map, it is indicated that it is drinkable. In 1 hour with a universal rubber adapter, I managed to fill my tank with 120l of water. It's great to fill up when you visit Rome and you don't want to drive 1 hour to go to an area. In addition, it is possible to park on each side for free at night. I parked there with my 7m, 2.30m wide motorhome. Please note during the day parking is payable from 8 a.m. This will help more than one. Here is the address indicated on Google Maps: Passeggiata del Gianicolo, 3, 00165 Roma RM, Italy Nice visit.