COVID-19 Alert
Due to COVID-19, this place may be closed or inaccessible.

Daily parking lot only
Nerja, 1 Urbanización Cueva de Nerja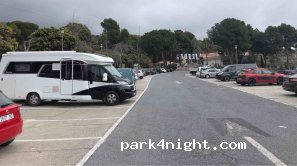 In the asphalt parking lot in front of the grotto you can stand up well during the day, up to 7m no problem and better than on the sloping earth parking lot in front. Free in February 2020. Visit to the grotto with audio guide € 13. Clean toilets and nice restaurant.
Id : 170733 - Créé le 18 02 2020 par
JuergenD