COVID-19 Alert
Due to COVID-19, this place may be closed or inaccessible.

Parking lot day/night
Lambesc, Avenue d'Aix en Provence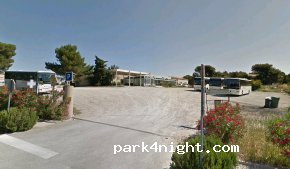 A small corner for the night yes but at what price. Parking sloping towards the road and impossible to put holds, noisy because near a highway with large passage towards Aix en Provence, plane passing over the area at night, truck of technical services going -by day, buses etc., finally a monstrous mess for a family who wants to spend a night, then 2 or more nights, it is not even imaginable. The 2 old motorhomes that are in this parking lot work there, so they are there for their job. Parking without service, just a trash can! Parking to avoid, cars, buses and other vehicles park next to you, and icing on the cake, a big oak tree that takes the place of 3 motorhomes. I hope that the mayor will make a service area reserved for motorhomes, but that is not won!