COVID-19 Alert
Due to COVID-19, this place may be closed or inaccessible.

Parking lot day/night
Vaux-Sous-Aubigny, 5-7 Rue de Verdun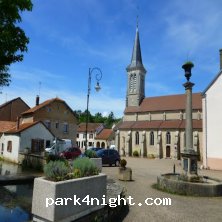 Parking tolerated away from the national road, Rue de Verdun, except evening watch and market day (Wednesday). Parking near the school. Shaded and quiet, close to shops including minimarket, tobacconist and excellent bakery, as well as a restaurant bar. Gourmet restaurant opposite the car park. Sale of Muids Montsaugeonnais local wine.
Id : 28292 - Créé le 7 09 2015 par
Rmy323