COVID-19 Alert
Due to COVID-19, this place may be closed or inaccessible.
Picnic area
Marinha Grande, Praia da Vieira - São Pedro de Moel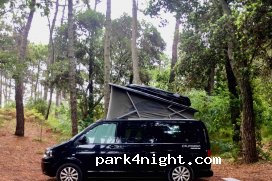 Place to sleep away from the masses, "alone" and in the middle of a dune forest. During the day, it is filled with friendly people who will spend the day with friends or family. With fountain, picnic tables and trash cans. A very neat place by the people who frequent it, clean. The beach is nearby giving a nice walk, but its waters are not suitable for swimming. A 5 star place. The access road is narrow, with no problem for vans. At the end of the runway, access to the beach car park offers more parking possibilities.
Id : 58088 - Créé le 6 08 2017 par
8usti