COVID-19 Alert
Due to COVID-19, this place may be closed or inaccessible.

Parking lot day/night
München, 120 Oberbiberger Straße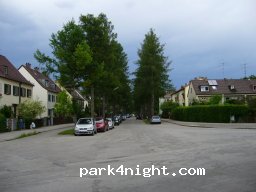 Very calm neighborhood near the woods. Right at this spot the street is very flat so you can park and shower without ramp angle. The street that is coming as an extension to the left hand side is named "Am Perlacher Forst" and features even more lots. I have never seen this areas crowded or all lots occupied. You can easily stay for a couple of nights, you will only notice some joggers and tennis players coming and going. Subway is near by, approx. 8-900 meters.