COVID-19 Alert
Due to COVID-19, this place may be closed or inaccessible.

Parking lot day/night
Cosne-Cours-sur-Loire, Route Touristique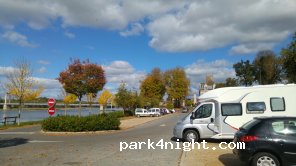 Free parking on the banks of the Loire below the Saint Agnan church. The spaces are short but a motorhome of 6.70 m can enter while reversing as much as possible. No service but 150 m from the city center.
Id : 65664 - Créé le 3 10 2017 par
kartman