COVID-19 Alert
Due to COVID-19, this place may be closed or inaccessible.

Parking lot day/night
Caín de Valdeón, 28 Barrio Abajo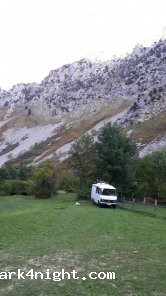 Very nice place to stay and take the "ruta del cares" Go to supermarket on the right side before the bridge and talk to them - in exchange for buying something or drinking some beers - you will get a nice garden with closed gate for about 4 or 5 vans! Getting to Cain is not an easy road, very narrow in some places but definitely a place to go.
Id : 66802 - Créé le 21 10 2017 par
caxi