COVID-19 Alert
Due to COVID-19, this place may be closed or inaccessible.

Parking lot day/night
La Población, 52 Barrio la Población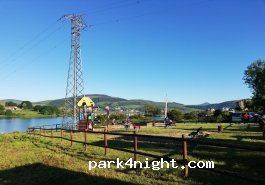 Parking of the Campoo de Yuso sports center, in La Población; next to a children's play area and a ramp down to the marsh. Nearby are several restaurants. Well leveled squares for about a dozen vehicles. Although it is next to the road, it is very quiet. There are showers and toilets in the sports center, but I do not know the availability.
Id : 82750 - Créé le 24 06 2018 par
Rotaetxe