COVID-19 Alert
Due to COVID-19, this place may be closed or inaccessible.

Daily parking lot only
Bad Dürrnberg, 3 Ramsaustraße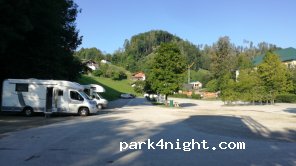 Nice parking space ideal to visit the salt mines, just a few steps from the mines. Possible to overnight, very quiet, fixed gravel floor w/ shadows during the afternoon- a plus in summertime. Parque das minas de Sal de Hallein, possibilidade de pernoitar, muito silencioso, com sombra na parte da tarde.
Id : 89387 - Créé le 27 07 2018 par
Alvor