COVID-19 Alert
Due to COVID-19, this place may be closed or inaccessible.

Parking lot day/night
Casablanca, Boulevard de la Corniche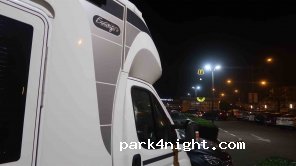 Casablanca is a very difficult place to find a proper parking spot. This one is actually McDonald's free parking lot but it was indicated to us by the tourist police of Casablanca as a place to park and stay overnight. There is a guard and cameras, so it looks pretty safe but it is also very crowded and noisy until 1 am. They close the access to the parking at night 1am so negotiate before that so you can spend the night here. (You don't have to pay). The guard stays all night.