COVID-19 Alert
Due to COVID-19, this place may be closed or inaccessible.

Daily parking lot only
Le Touquet-Paris-Plage, Avenue Louis Quetelart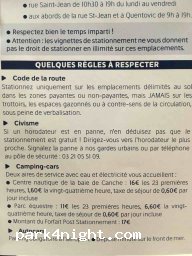 Some pitches in the shade. In season it must be crowded but this day almost nobody. Next to tennis. I do not think we can sleep but to visit Le Touquet by bike is pretty good. Prohibited at most 2m.
Id : 84148 - Créé le 3 07 2018 par
asalles